Workshops
Drawing Ideas
Mark Baskinger, William Bardel
In this workshop you will:
Be introduced to design sketching
Explore what design sketching is and how it is different from fine art drawing
Learn quick and dirty techniques for representing people, things, places and ideas
Familiarize yourself with scenario sketching
Take part in a group drawing project
This workshop will provide clear and simple methodologies to empower interaction between designers and to help you learn how hand sketching techniques -- with pens and pencils -- can be a means of recording, sharing and presenting ideas to others. It will also serve as a primer on sketching to help you to become a more confident and better visual communicator, while also demonstrating quick methods for using drawing to enrich the collaborative design process.
Intended for interaction and user experience designers of all skill levels, this workshop will help you broaden your sketching skills to capture rapid visualization of thoughts, concepts, systems and scenarios. Will and Mark will guide you through a range of activities, introducing drawing and sketching techniques along with methods for including sketching as part of a generative design process.
The format for this fast-paced workshop will be a balanced combination of presentation and discussion, along with ample time for hands-on sketching and drawing. By the end of the workshop you will have a broader understanding of hand-generated sketching and will have also learned new methods to help you work more creatively. Expect to be engaged and challenged in an open, supportive and fun studio environment.
Top 3 key take-aways from this workshop:
An idea of how sketching may enrich your design process.
Techniques you can customize and build upon.
Simple methods you can share back at the office.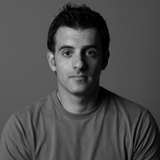 Mark Baskinger is an Assistant Professor in the School of Design at Carnegie Mellon University. He also has research affiliations with the Quality of Life Technology Engineering Research Center (Carnegie Mellon Robotics/ University of Pittsburgh) and with the /d.search-lab at the Technical University of Eindhoven (TU/e). Much of his research focuses on "interpretive form"- how products communicate through their form language, behavior, and context to inform interaction and shape user experience. He has published papers on the "language" of designed artifacts, visual "noise" in product design, tangible interaction, and methodologies of visualization.
In his Drawing Ideas® workshops, he demonstrates strategies for using sketching and visual thinking methods to foster collaboration in design processes. His work has been featured in design publications, international magazines and texts, and has been exhibited in numerous galleries and museums, including the Museum of Modern Art (New York). His work is also included in the permanent art collection of the University of Illinois. He has won numerous design awards from ID magazine and the Industrial Designers Society of America (IDSA), and holds multiple product patents.
Mark also co-directs The Letter Thirteen Design Agency, an interdisciplinary design firm and is a founding member of the EcoDesigners Guild of Pittsburgh. For a sample of his current work, please see http://www.letterthirteen.com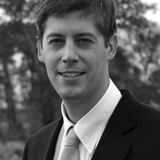 William Bardel is an information designer whose work involves improving access and understanding of complex ideas and environments. While working at software, architecture and design firms, he has designed sign systems and maps for cities, airports, and mass transit, along with annual reports, infographics, dynamic information displays, and statistical data visualizations.
He holds a Masters of Design degree from Carnegie Mellon University and a BA in English from Kenyon College. He also studied information design at the Rhode Island School of Design. Bardel has lectured on urban wayfinding and dynamic mapping at Carnegie Mellon University and on design drawing (Drawing Ideas®) at the CHI 2007 and Emergence 2007 conferences. He contributed a chapter on visual perception to the O'Reilly book Mind Hacks. His company, Luminant Design, is based in New York, USA.
Designing for Touchscreens and Interactive Gestures
Bill DeRouchey, Dan Saffer
Even though touchscreen and gestural technologies have been around for decades, they are only now being widely adopted for public use. The launches of Nintendo's Wii, Apple's iPhone, and Microsoft Surface have heralded a new era of interaction design where gestures in space and touches on a screen will be as prominent as pointing and clicking.
But how do you create products and design experiences for this new paradigm? While most of us know how to design desktop and web applications, many are still wondering how to adequately design for interactive gestures.
In this workshop you will:
Learn the key differences in designing for touch/gesture
Learn how to design touch targets
Explore the basics of ergonomics and kinesiology
Create a paper prototype of a touchscreen/gestural interface
Communicate presence and instruction
Learn strategies for documenting a touch application
Learn the basics of designing for touchscreens and gestural interfaces in this hands-on workshop. Bill DeRouchey, Interaction Design Director at Ziba Design and Dan Saffer, Principal at Kicker Studio and author of the 2008 O'Reilly book Designing Gestural Interfaces, will lead this workshop.
This workshop is for designers of all levels who want to expand their knowledge of interaction design into the new territory of interactive gestures. Through activities and mini-lectures on relevant topics, Dan and Bill will guide you in understanding the benefits and limitations of this new medium.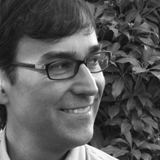 Bill DeRouchey has over fifteen years experience as a writer, information architect, product manager and now Interim Director of Interaction Design at Ziba Design in Portland, Oregon. With Ziba, he is fortunate to work on a variety of challenges, from handheld satellite radios and medical devices to community websites and interactive spaces.
Bill also writes about the variety and history of interaction design in everyday experiences on his blog, Push Click Touch. He is determined to stretch how people think about interaction design, from beyond the pure digital to any interaction between humans and the artifacts they create.
After that, he plays the ukulele.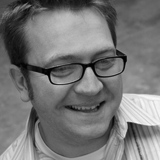 Dan Saffer is a principal at Kicker Studio, a product design consultancy. Every day, millions of people use the products he has designed.
An international speaker and author, his latest book is Designing Gestural Interfaces (O'Reilly 2008) which has been called "an essential reference work for anyone looking to advance human-technology interactions beyond dials, knobs, keyboards, and mice."
He holds a masters of design in interaction design from Carnegie Mellon University. A thought leader in interaction design, his writings on design have appeared in BusinessWeek, Design IT! magazine, and many online publications, including his own site at http://www.odannyboy.com.
Pattern Library
Erin Malone, Christian Crumlish, Lucas Pettinati
Tired of redesigning the same interactions over and over again?
Interested in streamlining your design and development process without sacrificing quality?
Wondering if you need to create a library of reusable design components and solutions?
Heard about the Yahoo! Pattern Library and want to know the real story?
Erin, Christian, and Lucas will share insights and lessons learned from the 3+ year history of the Yahoo! pattern library. They will show how to identify patterns, write, review and rate patterns; build a pattern library; and then will discuss how to leverage the interaction guidelines codified in a pattern library to rapidly design websites and applications.
Topics covered include:
Identifying patterns
Writing patterns (and building consensus)
Reviewing and rating patterns
Organizing patterns into a library
Attaching templates and code modules to patterns
Rapid prototyping of web experiences
Rapid development of production-ready web experiences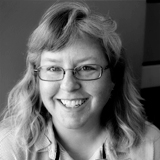 Erin Malone, Principal with Tangible UX, has over 20 years of experience leading design teams and developing web and software applications, social experiences and system-wide solutions. Prior to Tangible, she spent 4 years at Yahoo! leading the Platform User Experience Design team where they were responsible for building the Yahoo! Design Pattern Library and for providing design expertise to the popular YUI (Yahoo! User Interface Library). Additionally, she led the redesign of the Yahoo! Developer Network, oversaw the redesign of Yahoo!'s registration system, developed the user experience team's intranet and worked on other cross-company initiatives.
Before Yahoo!, Erin was a Design Director at AOL, Creative Director at AltaVista and chief Information Architect for Zip2. She was the founding editor-in-chief of Boxes and Arrows, is the author of several articles on interaction design history and design management and a founding member of the IA Institute. Currently she is working on a book for O'Reilly Media with Christian Crumlish called Designing Social Interfaces.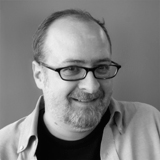 Christian Crumlish has been designing and writing about online user experiences since 1994. He is the curator of the Yahoo! Design Pattern Library and is in his second elected term as a Director of the Information Architecture Institute.
He studied philosophy at Princeton and painting at the San Francisco School of Art. He is the author of, most recently, The Power of Many: How the Living Web is Transforming Politics, Business, and Everyday Life (Wiley, 2004). Currently, he is working on a book for O'Reilly Media with Erin Malone called Designing Social Interfaces. He lives in Oakland, California, with his wife, Briggs, and his cat, Fraidy.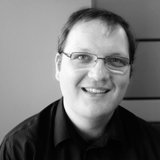 Lucas Pettinati is a Principal Interaction Designer at Yahoo! working on several international projects. Since joining Yahoo! in 2004, he has designed the Yahoo! Developer Network website, was responsible for Yahoo's all new user registration process, the redesigned Yahoo! Personals site, and created the Yahoo! design stencil kit.
Before learning to yodel, Lucas designed products for American Express, Sabre Holdings, and BMC Software. He holds a BA in Architecture form the University of California at Berkeley and sits on the industry advisory board for the Georgia Institute of Technology's HCI Master's program.
Dan Brown
Basic Deliverables: Wireframes and Flows
Wireframes wacky? Flows farkakt?
These and other interaction design documents can be difficult to create and use in the best of circumstances, not to mention the tight time frames and politicized organizations in which we work. Web sites and interactive products are becoming more complex and so, too, must the design documentation that describes them.
If you've spent any time pondering the ins and outs of any of these documents (or feel like you need to), this workshop is for you. Spend four hours with Dan Brown, author of Communicating Design--the only book on user experience design documentation--as he leads you through an exploration of wireframes and flows.
During the course of the workshop, you'll hone your skills with these two key documents, essential tools for communicating interaction design concepts. By the end of the workshop, you will have worked through these two deliverables and gathered best practices that you can extend to all your documentation.
Participating in this hands-on workshop, you will:
Discuss success criteria for wireframes and flows
Explore how different circumstances affect the content and format
Define a process for creating documents, large and small
Critique examples from Dan's portfolio and other sources
Create different versions of these documents
Practice presenting your documents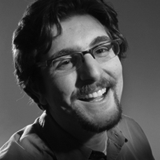 Dan Brown founded EightShapes, LLC--a Washington, DC-based user experience consultancy--with Nathan Curtis. In 2006, he wrote Communicating Design, a book describing 10 core deliverables for user experience designers. He's been practicing web design since 1994.
Design Studio
Jeannine Harriman, Liya Zheng
Interaction Design is a young field that spans many industries. Many of us learned the tools of the trade on the job. Because of this, there is a rich untapped number of approaches out there yet to be shared.
This workshop is intended to bring together conference participants who are interested in seeing how others practice the craft. At the end of the workshop, you will understand how different design approaches yield different solutions and be more conscious about how to think about a problem differently from what you do now.
This workshop will be highly collaborative. It is designed to foster exchange of ideas between people of all different backgrounds working in the industry. We will start with a short presentation on how we have done our work in different circumstances. Then we break into teams to design an experience. The exercise is intended to push boundaries of what it means to do IxD. At the end of the exercise, you will be asked to visually communicate to the group your method of solving the problem. The goals of this presentation are to share how different practices yield different results and to have a facilitated discussion to discover themes in our practice.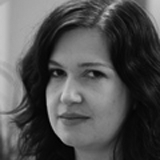 As a lead designer at Liquidnet, Jeanine Harriman specializes in envisioning and designing world-class user experiences. Jeanine previously worked as a designer at Netscape and at Cooper, and held senior-level positions at Avenue a | Razorfish and Symantec.
Jeanine also teaches a popular User Experience design class for the Design and Communication Arts program of the UCLA Extension.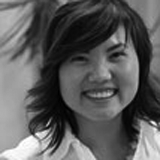 Liya Zheng is a lead designer at Liquidnet. She is currently helping Liquidnet solve business problems in the areas of design strategy, interaction and service design. She frequently conducts design workshops in the U.S. and China.
Previously, she worked at Respironics, a leader in respiratory monitoring and assistive technology. She helped them establish an internal Experience Design capability. Liya became interested in storytelling in interactive media through a position early in her career at Rockstar Games.
Web Form Design
Luke Wroblewski
In the world of Web applications, forms bridge the gap between people, their information, and your product or service. From registration forms that welcome new customers to checkout forms that finalize e-commerce transactions, Web forms frequently broker crucial online interactions.
In his full-day workshop, Luke Wroblewski, author of the Rosenfeld Mediabook Web Form Design Best Practices, will walk you through design considerations and best practices of form design culled from international site-tracking, usability testing, eye-tracking studies, and over eleven years of designing Web applications. He'll outline how the interaction and visual design of Web forms can make the difference between acquiring a customer and completing a transaction or not.
Through presentations, discussions, and hands-on exercises, attendees will learn how different types of forms, input fields, input labels, validation, feedback, calls to action, and surrounding visual elements can support or impair different aspects of user behavior. The workshop is structured to provide attendees with an understanding of the right "best" practices for their specific context, so they can quickly go from the quintessential design answer of "it depends" (on the business goals, user needs, and context of your forms) to actionable solutions. After this workshop, you'll never look at web forms the same way again.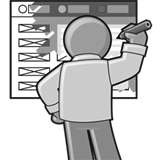 Luke Wroblewski is an internationally recognized Web thought leader who has designed or contributed to software used by more than 600 million people. He is currently Senior Director of Product Ideation & Design at Yahoo! Inc., where he leads the design of the world's most accessed Web page (Yahoo.com) and many other popular Yahoo! products.
Luke is the author of two popular Web design books: Web Form Design (2008) and Site-Seeing: A Visual Approach to Web Usability (2002). He also publishes Functioning Form, a leading online publication for interaction designers.
Well, we did all this research … now what?
Steve Portigal
Many designers and other people who "make stuff" agree that talking to people is essential at many points throughout the process. But even with that agreement it's not always clear what to do with the "data" that comes from those conversations.
Through exercises, examples, and discussion, Steve will share some best practices before going out in the field, while out in the field, and after being in the field that help transform questions into answers, answers into insights, and insights into actions.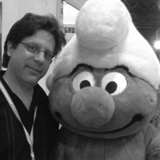 Steve Portigal is the founder of Portigal Consulting, a boutique firm that helps clients to discover and act on new insights about themselves and their customers. In addition to regularly speaking at design and marketing events, Steve has taught Design Research at the California College of Art and the Involution Master Academy. He writes regularly for Core77 and the Portigal Consulting blog, All This ChittahChattah. Steve is an avid photographer who has a Museum of Foreign Grocery Products in his home.
So you want to be a Hardware/Software Interaction Designer ...
Ted Booth, Michele Tepper
This workshop is intended for interaction designers who have little to no experience with hardware/software design and are interested in expanding their practice into this rapidly-growing space. Interaction design practice changes as it moves off the desktop and beyond keyboard and mouse input. Designers face new considerations of physical and environmental context, as well as new opportunities and constraints based in the different technological platforms, physical forms and use paradigms.
In this practical, hands-on workshop, we'll share insights and principles from our own experiences and those of some leading practitioners in the field. We'll provide guidance on working effectively with industrial designers and electrical and mechanical engineers to create the best possible user experience. In addition, we'll discuss how a hardware/software interaction design perspective will help you navigate the new world of product ecosystems and service design.
The session will include a design exercise where small teams will try their hand at developing a hardware/software design. Come prepared to engage deeply, to provide constructive feedback, and to take home new skills and a new way of thinking about your work and future.
Ted Booth leads interaction design at Smart Design. His team focuses on designing new experiences for a wide range of consumer products and services. Interaction designers at Smart work closely with industrial designers, researchers and engineers to create enjoyable and satisfying consumer experiences.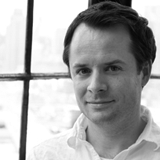 Ted Booth leads interaction design at Smart Design. His team focuses on designing new experiences for a wide range of consumer products and services. Interaction designers at Smart work closely with industrial designers, researchers and engineers to create enjoyable and satisfying consumer experiences.
Prior to joining Smart, Ted led interaction design at Motorola Enterprise Mobility (formerly Symbol Technologies) working on a wide range of mobile computers, RFID devices, and remote management tools. Before that, he led interaction design at Method, a consulting firm specializing in brand identity, web design, and product user interface. He began his career at MetaDesign in San Francisco. He holds a Masters of Design from the Illinois Institute of Technology.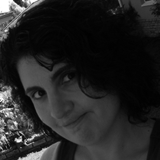 Michele Tepper is a Principal Designer in frog design's New York studio. She has led or contributed to projects ranging from industrial design product strategy research to mobile interfaces to complex web applications. She is the co-lead of frog¹s internal Convergent Design expert group, a global knowledge-sharing community for creating memorable, pleasurable experiences that bring together industrial and digital design.
Before frog, Michele worked for IBM, setting interaction standards for the company's global website. She has written influential essays on social software and online community formation, and holds a Ph.D. in English from the University of Michigan.
Introduction to Interaction Design
David Malouf
This half-day seminar will provide a solid background in Interaction Design (IxD) for those who are coming to the practice of IxD from other areas, such as information architecture, software engineering, business analysis, project or product management, technical writing, architecture, industrial design, visual design, and interactive design.
The first part of the workshop will give participants a solid grasp of the history of IxD and the role it plays in the design of digital systems (mostly software). In reviewing the history of IxD, participants will gain an understanding of the foundational elements of interaction design and the language that connects them.
The next part of the workshop will give students one of many frameworks that interaction designers use to guide them towards designing an interactive solution. This framework spans the project lifecycle: from research to ideation, to frameworking and refinement of designs, and then to validation and deliverable documentation.
During the workshop, participants will perform hands-on exercises and engage in facilitated discussion. Throughout the session, resources will be provided to enable participants to continue to learn about the theory and practice of interaction design on their own, and to begin to incorporate its techniques and principles into their work.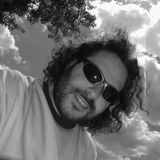 David Malouf is a leader in the interaction design community. He has been involved in the design of software applications, primarily in the enterprise space, for nearly fifteen years. During that time, he has spoken on the topic of interaction, has taught courses and workshops, and has been published and quoted on the Internet as well as in print media on the topic.
Currently, he is a Senior Interaction Designer at Motorola Enterprise Mobility in Long Island, New York, where he leads projects for desktop & web-based software, embedded software, and hardware interfaces. As of January, he is joining the Savannah College of Art & Design to be the Professor of Interaction Design in the Industrial Design department.
David is one of the founders of the Interaction Design Association. He was its first vice president and the co-chair of Interaction08. He has served as a board member of UXNet and has been on the planning committee of three IA Summits. He blogs regularly at http://synapticburn.com and micro-blogs more regularly at http://twitter.com/daveixd
Local Leaders Workshop
Janna Hicks DeVylder and the IxDA Board
There are over 50 IxDA Local Groups established all over the world. Each group has started simply, with one or more Local Leaders raising their hand and expressing a desire to meet others who share a passion for Interaction Design.
In planning engaging events in their locales, IxDA Local Leaders have collected a wealth of experience about the dos and don'ts of group organization and event planning. Moderated by Janna Hicks DeVylder and the IxDA Board, this interactive workshop is a way for all Local Leaders to gather and learn from each other.
This workshop is open to those of you who are:
- currently organizing Local Groups
- interested in supporting an existing Local Group
- interested in starting a new Local Group
There is no cost associated with this workshop.
Adobe Workshop 1:

Mock-up Web & Application Design with Adobe Fireworks CS4
Alan Musselman
Come and see how Adobe Fireworks CS4 helps you rapidly prototype websites, application interfaces, and other interactive designs. Attend this workshop to learn how to create, edit, and optimize web graphics faster and more accurately. Get tips on how to demo your design live or e-mail interactive PDF files to clients. Find out how to make the most of the new user interface and core functionality such as consistent text handling with the Adobe text engine. Then learn about outputting your designs to the application platform of your choice: Adobe AIR, Flash CS4 Professional, Flex, HTML, or CSS-based layouts.
Alan Musselman is a Software Architect for the Adobe Fireworks product. He has over ten years of web design and developer experience at Adobe and several medium size start-ups.
Adobe Workshop 2: Exploring Cross-Discipline Workflows
Doug Winnie
This will be a workshop on how designers can integrate and collaborate with other designers or developers between media types and disciplines. There will be a customer case study for you to hear firsthand how a productive workflow from idea, prototype and through a design process have been successful. Learn how XXX at XXXX Design is using Fireworks CS4 and other tools to create and design for the web and other applications.
Doug Winnie is a Group Product Manager for Workflow at Adobe Systems. He is responsible for maximizing workflow collaboration between Adobe products, platforms and technologies.
Keynotes
Robert Fabricant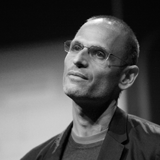 Robert Fabricant is an Executive Creative Director at frog Design where he leads frog's efforts to expand into new markets. Robert has been with frog since 2001, leading a multidisciplinary creative team in New York in a broad range of initiatives that span product design, interaction design, environments and branded experiences. He has worked with clients such as MTV, GE, Cox Communications, Virgin Mobile, Barnes & Noble, BBC and Nextel and designed user experiences for numerous platforms, including handheld devices, in-car information systems, medical devices, retail environments, networked applications and desktop software.
Prior to frog, Robert led the Research & Development team at Organic where he worked on wireless applications for clients such as Lucent Technologies, Federated and the Museum of the Moving Image. Other work experience includes @radicalmedia, Microsoft Research and Edwin Schlossberg Inc. He is an adjunct professor at NYU's Interactive Telecommunications Program where he teaches a foundation course in Interaction Design. His interactive work has been featured in ID magazine, Wired magazine, the Wall Street Journal and presented at SIGGRAPH and DUX.
Kim Goodwin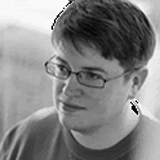 Kim Goodwin is VP of Design at Cooper, where she has played a major role in developing Cooper's Goal-Directed Methods for interaction, visual, and industrial design. She is the author of a new book, Designing for the Digital Age. Kim also led the creation of the acclaimed Cooper U curriculum, and her design expertise and teaching skill have made her popular as a speaker at conferences around the world. Kim has led a wide range of design projects, from e-commerce sites to information appliances, IP telephony systems, and complex healthcare applications. Before joining Cooper, Kim was a creative director and an educator.
Fiona Raby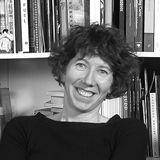 Fiona Raby is a partner in the design practice Dunne & Raby. She was a founding member of the CRD Research Studio at the Royal College of Art where she worked as a Senior Research Fellow (1996-2001). She taught in Architecture at the RCA from 1996-2005 where she led ADS04. She currently teaches in Design Interactions at the RCA. Dunne & Raby were established 1994. Their projects have been exhibited and published internationally and are in the permanent collection of several museums, MOMA, FRAC, FNAC and the V&A. Her book with Arthur Dunne, Design Noir: The Secret Life of Electronic Products was published in 2001.
Marc Rettig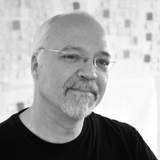 Marc Rettig is a co-founder of Fit Associates, LLC. Fit's intention is to lead, nurture, connect and equip conscious organizations for the greatest impact for the common good. Fit has a deep bench in ethnographic research, design, psychology, technology, and organizational change. Their industry client list includes Nissan, Comcast, Whirlpool, SAP, Microsoft and Respironics. Increasingly, Fit is turning its attention to work in sustainability, local development, and other issues whose scope exceeds the reach of any single organization.
Marc's 26-year career has been guided by an interest in people, systems, communication, anthropology and the power of design. After a first career in software systems, he has spent more than a decade as a designer of projects, interactions, products, services, experiences, and transformations. He has taught both lecture and studio courses at Carnegie Mellon's Graduate School of Design (where he was the 2003 Nierenberg Distinguished Chair of Design) and the Institute of Design, IIT in Chicago.
Marc served as Chief Experience Officer of the pace-setting user experience consultancy HannaHodge, where he was responsible for the firm's user-centered process, team culture, and research initiatives. He was a Director of User Experience at Cambridge Technology Partners. Prior to that he was a consultant with seeSpace, VP of Design for Digital Knowledge Assets, and a Senior Architect in Andersen Consulting's Advanced Technologies Group.
Marc has an undergraduate degree in Anthropology and Linguistics, and completed requirements for a Master's in Computational Linguistics at New York University. He frequently speaks and conducts hands-on workshops in industry and academic settings around the world. Marc currently serves on the advisory boards of UXNet, The Interaction Design Association, and Rosenfeld Media, and is a Contributing Editor to Interactions magazine.
Dan Saffer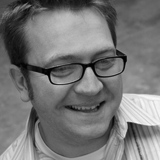 Dan Saffer is a principal at Kicker Studio, a product design consultancy. Every day, millions of people use the products he has designed.
An international speaker and author, his latest book is Designing Gestural Interfaces (O'Reilly 2008) which has been called "an essential reference work for anyone looking to advance human-technology interactions beyond dials, knobs, keyboards, and mice."
He holds a masters of design in interaction design from Carnegie Mellon University. A thought leader in interaction design, his writings on design have appeared in BusinessWeek, Design IT! magazine, and many online publications, including his own site at http://www.odannyboy.com.
Jared Spool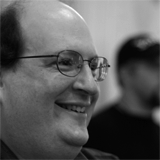 If you've ever seen Jared Spool speak about usability, you know that he's probably the most effective, knowledgeable communicator on the subject today. What you probably don't know is that he has guided the research agenda and built User Interface Engineering into the largest research organization of its kind in the world. He's been working in the field of usability and design since 1978, before the term "usability" was ever associated with computers.
Jared spends his time working with the research teams at the company, helps clients understand how to solve their design problems, explains to reporters and industry analysts what the current state of design is all about, and is a top-rated speaker at more than 20 conferences every year. He is also the conference chair and keynote speaker at the annual User Interface Conference, is on the faculty of the Tufts University Gordon Institute, and manages to squeeze in a fair amount of writing time.
John Thackara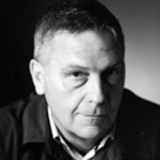 John Thackara is Director of Doors of Perception, which was founded in 1993 to create a conference of that name in Amsterdam. It now produces festivals and projects that engage a worldwide network of designers, media artists, technology innovators, and grassroots innovators to imagine (and begin to design) sustainable futures. He also works with cities and regions seeking to build next-generation institutions.
A former London bus driver, and later a book and magazine editor, John was the first Director (1993-1999) of the Netherlands Design Institute. He was programme director in 2007 of Designs of the time (Dott 07) a new biennial in North East England. In 2008 he is commissioner of City Eco Lab at Cite du Design in St Etienne, the French design biennial. John is an Associate of The Young Foundation, and is senior advisor on sustainability to the UK Design Council. His most recent book, In The Bubble: Designing In A Complex World (MIT Press) will appear this year in Italian, French, Japanese, Chinese and Portuguese.
His personal web site is http://www.thackara.com.